Sample Projects / Client list
Khmer Solar, a limited liability company, registered pursuant to Cambodian law, was founded in 1997 by Ford Thai, a dual citizen of Cambodia and the United States and the majority shareholder, Peter Banwell and Margaret Ryan both United States citizens. The company was founded to serve rural Cambodians who were off the electric grid and not likely to get on anytime in the foreseeable future. Our first customers were for the most part nongovernmental organizations and donors who built schools and health centers for the government. In 2008, Kunthap Hing, an American educated engineer, a dual citizen of Cambodia and France, joined the company, bringing with him more than 40 years of experience in the energy and environment sector. In the past ten years, the Cambodian economy has experienced unprecedented growth and a vibrant private sector has emerged. Cellular telecommunication depends on solar energy to power communication towers which are off the grid. In addition, tourism has expanded and the hotel industry has opted for solar hot water, a clean energy with a very interesting pay-out-time. As the market evolved, so did the company and Khmer Solar now serves into five sectors: telecommunications, solar hot water, solar navigational lighting, solar home systems and specially designed solar systems. Khmer Solar is headquatered in Phnom Penh, with branch offices in Battambang and Siem Reap. We have 10 fulltime sales, office and administrative personnel and 14 technicians. We are the largest and most diversified solar energy company in Cambodia.
SOLAR POWERED TELECOMMUNICATIONS
Khmer Solar began selling components to the telecommunications industry in 1998. Each year, sales to the industry increased. In 2004, Khmer Solar in a joint venture with Kyocera International, the telecommunications division of Kyocera, began selling entire solar systems to power rural telecommunications towers. Khmer Solar/ Kyocera are the principal supplier to the largest telecom provider in Cambodia. In the last two years alone, Khmer Solar/ Kyocera has supplied 1.2 MW of solar energy to the telecom industry.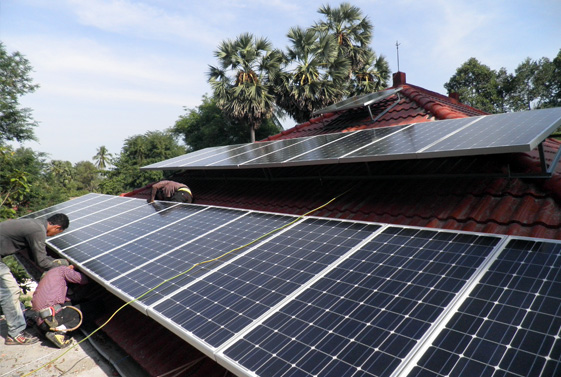 SOLAR HOT WATER
In 2005, Khmer Solar began to import solar hot water systems. Since then we have installed both small systems on homes and large systems for hotels. The systems are efficient, and heat up quickly, meaning that they work well even in the rainy season. While hot water is not in high demand in typical Cambodian households, it is a requirement in hotels and guest houses catering to foreigners.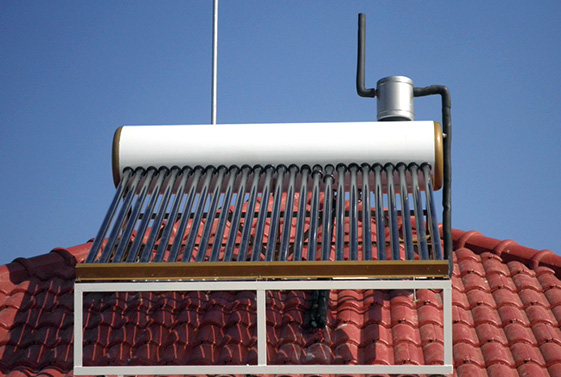 SOLAR NAVIGATIONAL SYSTEMS
Khmer Solar is the sole distributor in Cambodia and Vietnam for Sealite, the Australian manufacturer of high quality solar navigational lights that are used for tower lights, and markers for rivers and seaports. Since 2002, we have sold increasing numbers of these lights, a total of more than 2,000.
SOLAR HOME SYSTEMS
Khmer Solar has installed more than 3000 solar home systems. Systems are sold as packages, the most popular package being an 87W system designed to power a 14"DC color television. The systems are extremely durable and have a high level of customer satisfaction. The Battambang office extends credit to qualified purchasers. Approximately five hundred customers have purchased home systems with credit borrowing more than $250,000, with a very acceptable repayment rate. In recognition of Khmer Solar's quality products and high standard of service it is one of the solar energy companies to qualify for the World Bank solar home subsidy program.
SPECIALLY DESIGNED SOLAR SYSTEMS
Where the customer's needs are more complex than television and lights, Khmer Solar designs systems to fit the client's needs. These range from the system that power computers in 300 rural schools to a 16,800 watt system for a World Bank's funded office and pumping system for the Department of Fisheries. Additional examples of SDSS are: a 3,480 watt office for UNDP on the Tonle Sap; a 2,000 watt system for a private residence in Svay Rieng and a 1,700 watt system for the IDMC orphanage in Preah Net Preah. Clients are pleased with the systems and many return with new projects